3 MARCH 2023 (Cairns) - Advance Cairns is calling on the region's tourism, marine and allied industries to have their say on flagged legislative changes which would ensure that the jobs and economic benefits of the superyacht industry would continue to flow to the...
From the CEOWe are delighted to welcome Cairns Regional Council to Advance Cairns as a Platinum member, further cementing our collaboration on key initiatives to advance the city and the wider region. This important move follows a close partnership with Council on...
From the CEOIt's been a cracking start to the year with many of our members in the thick of business activities reporting a prevailing sense of making up for lost time. We are looking forward to our first major event of the year tomorrow, with an economic outlook...
From the CEOThe final quarter of the post-COVID recovery year has been jam-packed with highlights including high-level government engagement in Brisbane and Canberra to meet state and federal government officials, the launch of our innovation series and an exclusive...
From the CEOWhat a time to be stepping in to helm Advance Cairns with the announcement in the Federal Budget of more than $500m in funding for major transformational projects for the region. These initiatives will make a significant contribution to further...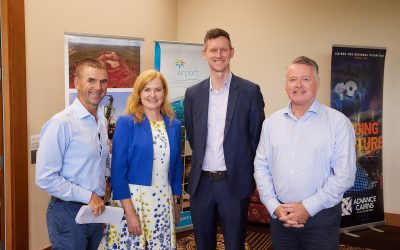 From the Chair Full six-year medical degrees taught at James Cook University's Cairns campus are set to become a reality next year in what is another huge step towards realising the region's ambitions to elevate Cairns Hospital to university status. Almost 1000...
From the Executive Chair Advance Cairns has secured a coup with its new chief executive officer, which is being announced today. Jacinta Reddan has had a long and successful career in communications, marketing, government relations and public affairs, much of it in...
CAIRNS, September 1, 2022 - Advance Cairns, the leading independent, non-government advocacy and economic development organisation for Tropical North Queensland, today announced the appointment of Jacinta Reddan to lead the organisation. Ms Reddan will take on the CEO...
From the Executive ChairTwo major announcements in recent days have the potential to profoundly reshape the tropical north Queensland region for decades to come. Firstly, the Albanese Government has confirmed the most comprehensive reassessment of Australian Defence...
From the Executive ChairThe far north has been front and centre this week with State Government activities with a range of senior ministers in the region. Yesterday Advance Cairns staged our annual post State Budget review at the Hilton Hotel with Treasurer and...
More than 100 local business owners and representatives turned out to celebrate a decade of support from Advance Cairns Foundation Members at Crystalbrook's Whiskey and Wine Bar last night. The event recognised 42 businesses and organisations which have been with...
From the Executive Chair Strategic growth opportunities across defence, food exports, education and health were front and centre when Advance Cairns last week hosted senior diplomats from seven Asian countries. Senior representatives such as Ambassadors, High...
From the Executive Chair The past couple of weeks have brought about dramatic changes across the nation's political landscape, with the newly-elected ALP Federal Government now taking shape with its senior leaders and full ministry announced.  Although the ALP and...
Download
Forging A Brighter Future